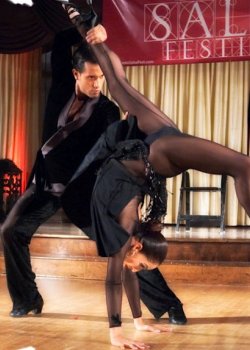 Salsa Instructor

Profile

Company:

Grizzly Dance Company

Location:

San Jose / Los Angeles
Contact Info
Website:
www.gdcdancestudio.com
Instructor Facebook Page
Email:
grizzlydancer@hotmail.com
Phone:
(818) 915-7663
Accolades
1st Place - 2010 World Latin Dance Cup Cabaret
1st Place - 2011 World Latin Dance Cup Cabaret
2nd Place - 2011 World Latin Dance Cup Cabaret Teams
3rd Place - 2012 World Latin Dance Cup Cabaret Teams
Biography
Grizzly Hidriago is a latin jazz and cabaret specialist. Originally from Caracas, Venezula, Grizzly has been dancing from a young age and is trained in virtually every style of dance from Ballet to the Cabaret and Theatre Arts. He has made a name for himself in the salsa world with two championship wins in the cabaret category at the World Latin Dance Cup.
Grizzly Hidriago is known for his big tricks and precise technique as well as his innovative choreography. He is also the director of Grizzly Dance Company, based in Los Angeles, which performs and competes at events around the world. Grizzly is also a promoter for the Venezuela Salsa Congress.
In 2013, Grizzly started Grizzly Dance Company San Jose, a division of his company based in the South Bay. He also teaches weekly salsa lessons every Friday at Club Milano in San Jose.
Videos
---