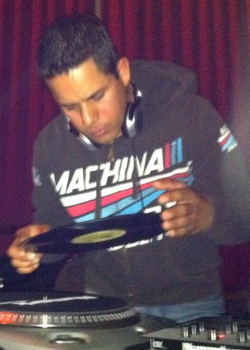 DJ Profile
Name:
Angel Rivers
Location:
San Jose
Contact Info
DJ 360's Facebook Page
Email:
idanceon2@yahoo.com
Regular Events
El Valenciano Wednesdays
Cafe Cocomo Thursdays
Biography
DJ-360 (aka Angel Rivers) is a SF Bay Area DJ and salsa dancer. DJ 360 first started DJing over 10 years ago, but after taking a long hiatus he blasted back onto the scene in 2009. Today he can be found DJing at salsa events all over the Bay Area including El Valenciano and Cafe Cocomo. Dj-360 is the only DJ in the entire San Francisco Bay Area spinning salsa music on vinyl (Real Spinning, as he calls it).
DJ 360 plays a wide range of Latin music, including salsa, mambo, chacha, guaguanco, boogaloo, pachanga, and more. He also DJs other genres as well, including Mexican, American, and European music. The name "360" comes from the salsa move of the same name.
---