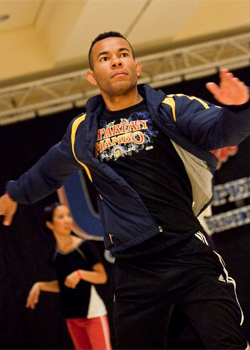 Salsa Instructor

Profile
Contact Info
Instructor Facebook Page

Instructor Instagram Profile
Instructor YouTube Channel
Email:
takeshiyoung@gmail.com
Phone:
(408) 345-KESH
Accolades
1st Place - US Salsa Open 2012 Rising Star Footwork
1st Place - US Salsa Open 2011 Jack & Jill Competition
1st Place - US Salsa Open 2010 Just Dance On1
2nd Place - SF Salsa Congress 2010 Semi-Pro Division
3rd Place - Las Vegas Salsa Congress 2012 Amateur
3rd Place - Portland Salsa Congress 2011 Amateur Division
Biography
Takeshi Young is a salsa dancer and competitor based out of San Jose. He has competed in competitions around the country including the SF International Salsa Congress, Portland Salsa Congress, US Salsa Open Championships, and World Latin Dance Cup.
Takeshi has performed and competed various dance teams including Salsamania Dance Company and Pretty Boys & Girls.
Takeshi is the founder and director of Spartan Mambo, the college Latin dance team at San Jose State University.
Videos
---