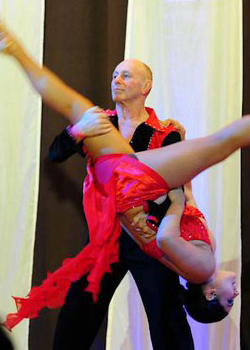 Salsa Instructor

Profile
Contact Info
Instructor Facebook Page
Email:
way_kha@yahoo.com
Accolades
2013 World Salsa Summit - 1st Place Over 45 Bachata, Salsa, Cha Cha
2012 World Latin Dance Cup - 4th Place Over 65 Division
2011 World Latin Dance Cup - 5th Place Over 65 Division
2011 US Salsa Open Championships Multi-Division Champ
2011 Portland Salsa Congress Amateur Division Champion
2010 US Salsa Open Championships - Top Student

Biography
Wayne Melton is a competitive salsa dancer and dance instructor from the South Bay Area. Wayne has a background in competitive roller skating, in which he holds numerous national titles. He has performed on with some of the top salsa teams in the Bay Area, and has competed and performed at salsa congresses around the world.
In recent years, Wayne has won titles at top salsa competitions around the country, including the US Salsa Open Championships and Portland Salsa Congress. He helps teach salsa lessons alongside Ricki Anaya and also offers private salsa instruction, where he specializes in lifts & tricks as well as basic salsa technique.
Videos
---