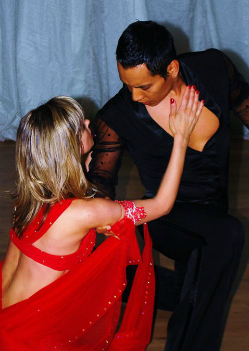 Instructor Profile
Location:
SF Bay Area
Contact Info
Accolades
Popularized New York style salsa in the Bay Area.
Creative take on mambo, unmatched musicality.
Considered authorities in the on2 style.
Biography
Gabriel Romero and Victoria Ruskovoloshina are the directors of San Francisco based Mambo Romero dance company. The pair are known as exemplars of the New York on2 style and are credited with bringing mambo to the San Francisco bay. Their routines continue to innovate year after year, featuring unmatched musicality and feverishly detailed choreography.
Gabriel and Victoria are very well respected as teachers and advocates of mambo and dance in general. Gabriel is known for bringing a fresh approach to classic mambo steps, while Victoria is unparalleled in her styling.
« See more Salsa Congress Instructors
---