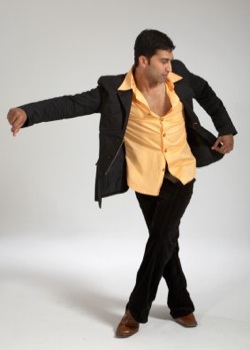 Salsa Instructor

Profile
Contact Info
Website:
www.gijujohn.com
Instructor Facebook Page

Instructor Twitter Profile
Accolades
Salsa World Championships Finalist
Singer & Songwriter - Indian/Latin Fusion
Movie Producer
Biography
Giju John is a pop music vocalist, producer, and world-ranked salsa dancer. Giju was formerly a principal member of Salsamania Dance Company, and has performed and competed all across the US, Europe, and India. He has also taught salsa classes at Albertos Night Club, and is currently the director of Beyond Dreamz dance company based in San Francisco.
In addition to his accomplishments as a dancer and instructor, Giju is a world renown musician who has produced several Latin/Indian crossover CDs. Giju is also the co-producer of the Bollywood film, "Love, Wrinkle Free".
Videos
---