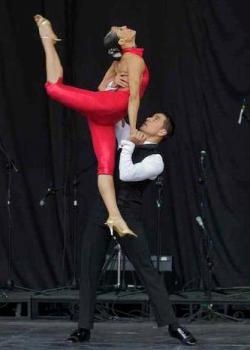 Instructor Profile
Location:
Bogota, Colombia
Contact Info
Accolades
Rosario Salsa Congress Champions 2009/2010
3rd Place SF Salsa Congress 2010
Commanding performers in the Colombian style
Biography
Nicolas Cruz and Caterine Estrada began dancing together in Bogota, Colombia, considered one of the preeminent salsa capitals in the world. They were both principal dancers as part of the prestigious Escuela de formación Artística Nueva Generación de Mambo Y Chachacha, one of Colombia's top dance companies. They are both classically trained and technically proficient dancers.
Together they combine the exciting Colombian brand of fast, intricate salsa and thrilling aerial lifts with a broad and powerful choreography that travels the stage. They are the 2 time winners of the Acclaimed Rosario Salsa Congress (2009 & 2010) and took 3rd place at the 2010 SF Salsa Congress.
« See more Salsa Congress Instructors
---